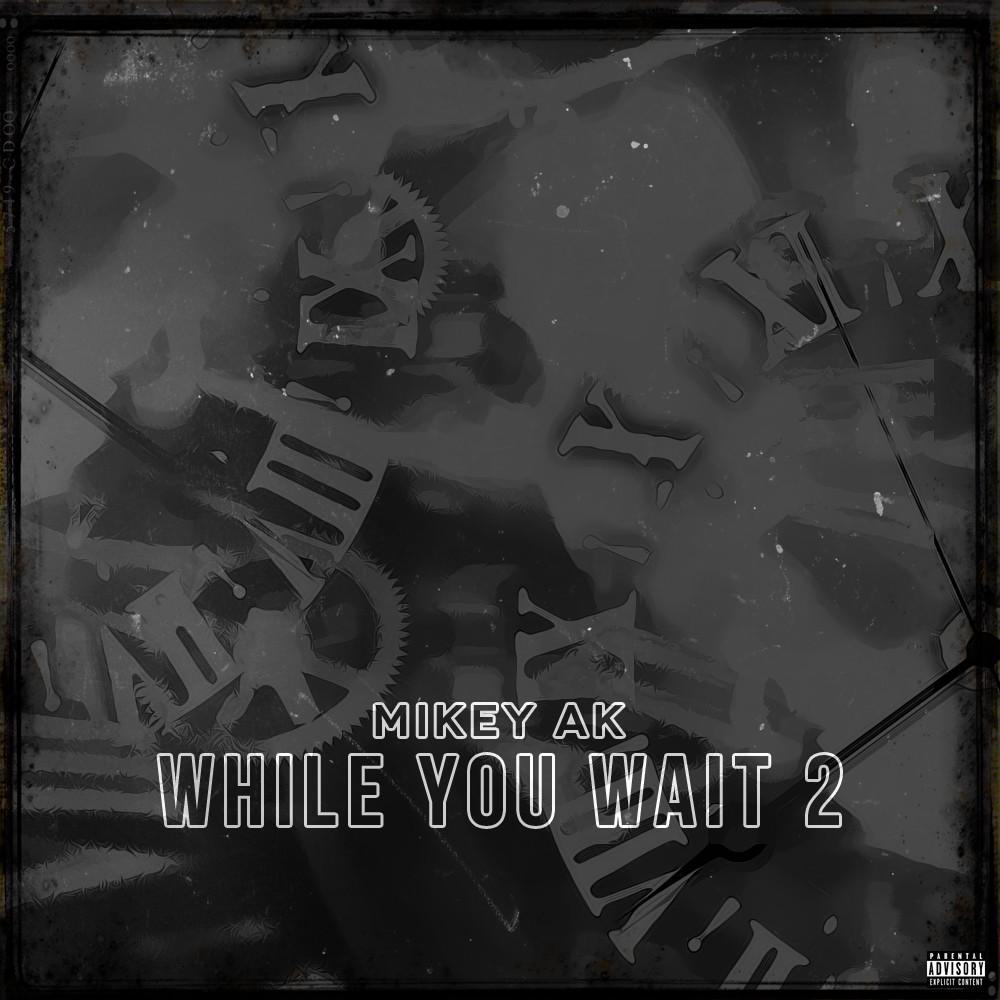 Mikey AK – real name Mike Akinfe – is a young emcee from Washington, DC. Although Mikey grew up in Maryland's ghettos, he understood the importance of keeping his head on straight. Avoiding the negative influence of street life, Akinfe discovered his passion for poetry. This passion followed him to Arizona, where he attended Grand Canyon University. It was at GCU where friends began suggesting to Mikey that he add music – beats – to his poetry. The rest, as they say, is history. And history is exactly what Mikey AK is trying to make.
Rather than setting his sites solely on fame and riches, Mikey wants to make a difference with his music. Just because you were raised in the ghetto doesn't mean you need to fall into the street life. Through music, Mikey offers up an example of hope and determination to everyone growing up in situations similar to his own. With six mixtapes and an EP already under his belt, Mikey AK drops off his latest contribution to the music world, While You Wait 2.
Hit the cut for the track list, stream, download link and the Straight Fresh review.
01. 365
02. All Dat Ruckas (feat. Wise)
03. Malibu Straight
04. Hunnded Ones
05. When I Make It
06. Leave It Alone
07. Amnesia
08. In Da Clouds
09. Shorrdy Wanna Man
10. To Da Bar
11.Remember When (feat. Jstarr)
12. Decisions
13. Somethin To Prove
14. I Felt Like It
15. Ray Charles (feat. SPyke Lee Free & Trai)
Can't lie, changed a lot since I started rappin'
It's fucked up, I told myself I wouldn't let it happen
But the reality of it is that I'm growing
While You Wait 2 starts off with Mikey AK offering up a look at where he's at mentally, as an artist and person, on "365". The track came one year – 365 days – after Mikey released his last tape. Over the course of that year, he found himself confronted with a variety of emotions that had the potential to stop him from achieving his dream of being an emcee. Fortunately, he kept his mind on success, allowing him to grow as a human as he continued to work towards his goals. Despite feeling as if he wasn't getting the support he expected, Mikey AK refused to give in to the doubters. "365" was an excellent choice to start the mixtape off, as it helps portray Mikey as a hungry young artist – a major theme throughout the rest of While You Wait 2. He's a motivated and intelligent emcee, and those characteristics will cover the costs of achieving his dreams.
My style is versatile
I got that dubstep, disco, hood sound
The variety of beats on While You Wait 2 help to cement Mikey AK's versatility as a lyricist. This was one aspect of Mikey that really stood out to me while listening to the tape – he can switch up his flow to fit perfectly with any beat. On tracks like "When I Make It" and "Something to Prove", Mikey has a hunger and drive in his voice that compliments the powerful, amped up production. Listening to him on these songs, you can tell he refuses to give in or give up. Then, on "Amnesia" and "Remember When", he spits with a reflective calmness that helps add to the tracks' emotion. His flow and the sound of these beats cause the listener to reminisce about past relationships, but his lyrics stress the importance of not dwelling on the past. Those relationships didn't work out for a reason, don't stress it – move on with your life, without forgetting what you learned from those times.
Open about his affinity for marijuana, it should come as no surprise that "In Da Clouds" makes for a perfect 'smoke-to-this' song. The chill beat again fits his flow, resulting in a tight vibe – not too tight though; more like a 'perfectly rolled Dutch' vibe. A standout track, Mikey takes an overused subject and instead of just rapping about getting high, he puts a creative twist on weed songs. His ability to tell a story is on full display here, as he describes copping a "cutie" then details smoking through four ounces of marijuana – he copped a QP (quarter pound of marijuana, or four ounces). Really though, the highlight of this track is Mikey's creativity and ability to make a subject so commonly rapped about come off as original. Even if you don't smoke, you may find yourself buying a dub and a Dutch after listening to "In Da Clouds".
Proving he can walk that fine line between 'mainstream' and 'underground' sounds, Mikey included tracks like "Malibu Straight" and "To Da Bar". These are two songs that would not seem out of place on the radio – other than the fact they are more than just catchy beats, thanks to Mikey's skills lyrically. For an artist who wants to be successful, it is important to have more than just an arsenal of lyrics and wordplay. Exposure is necessary, and radio-friendly sounds open up doors in ways lyricism alone can't (I'm not saying this is a good aspect of the rap game, but you'd have a hard time convincing me it's not true). After listening to "Malibu Straight", I caught myself singing the hook on multiple occasions – I don't like Malibu, straight or mixed, but the song really is that damn catchy. The track could easily become an anthem for college females across America. And once again, we are provided with evidence that Mikey has the ability to tell a story rather than just rap and rhyme words. He takes the listener on his journey from the bar to the bedroom, with several stops in between. For nearly 4 ½ minutes, the listener feels as if they are along for the ride – don't question why you ended up in the bedroom with them, just accept that Mikey AK is not just a rapper, he's a storyteller. A versatile one at that.
I never claim to be the hardest, but probably one of the smartest,
a very talented artist
While You Wait 2 reveals a lot about Mikey AK's character and personality, which is beneficial especially if this mixtape is someone's first exposure to the emcee. As noted, he comes off as an artist hungry for success, with the drive necessary to reach the level he desires. In addition, Mikey's intelligence, maturity and confidence are on full display. While I don't think there is any set prototype for what makes a successful artist, the combination of drive, brains, maturity and confidence certainly can't hurt Mikey's chances.
Mikey AK's confidence is evident throughout the mixtape, ranging from self-confidence to cocky and braggadocios. On "All Dat Ruckus" he raps, "As for these women, I see no need to lust 'em / If I wasn't rappin' bet it'd still be effortless to bust 'em". He doesn't need his music to get women, and he doesn't need crush over women, even if they seem out of his league. Rather, he has enough confidence in his own abilities to "bust 'em" without even trying. This confidence does not merely apply to hooking up with women – it carries over to his music. His desire and drive to succeed is intensified by his confident attitude, so much so that he's poised to break any record no matter where it's set. He makes this point on "When I Make It" – not 'if' he makes it, but when.
The poet turned emcee exhibits a maturity seldom seen from young artists, especially in the rap game. Although he makes sexual references to women on various tracks, he also demonstrates a respect and appreciation for the opposite sex. On "Shorrdy Wanna Man", Mikey examines the complications that arise when a relationship is stuck between love and lust, and whether it's worth risking a friendly relationship if lust is the emotion driving two people to be more than friends. Although the female in the song wants a man, Mikey knows he can't dedicate himself to that relationship – he's busy with music, he's not sure if she lusts for him or if she actually loves him. He wishes it didn't have to be that way – "I know that she deserves one, kinda blown cause I won't be her one" – but he also understand they aren't right for eachother, at least not at the moment. Far from your average 'fuck bitches' rap song, Mikey demonstrates a respect for the feelings of a female. It takes a mature person to do this, and it also once again reveals his confidence – he doesn't need to be the type of person to use women for his pleasure if it's going to hurt someone in the long run.
"Remember When" is another track that illustrates Mikey's respect for women. Feauring Jay Star, the song consists of back and forth verses between two former lovers. There are two sides to ever story, and this track presents both points of view – the male (Mikey) and the female (Jay Star). One of the key characteristics of hip-hop is its ability to give a voice to the voiceless. This track exemplifies that, as Jay Star drops rhymes portraying the female voice. Mikey did not have to make songs like "Remember When" or "Shorrdy Wanna Man", but he made the conscious decision to include them on While You Wait 2. Yes, he may talk about getting someone drunk with Malibu and taking her back to the bedroom, but when it comes down to it, Mikey AK is mature enough to respect and appreciate women. That alone is going to help this emcee build his career to the next level.
One of my favorite tracks from the mixtape is "I Felt Like It", on which Mikey reveals how he wrote lyrics for someone but never received payment. To me, this track proves how mature Mikey AK is as an entertainer and as a human. It also shows how intelligent he is. He gets his emotions out on the track – "I'm fed up, pissed off" – without mentioning who ripped him off and furthering any beef he may have with the jerk-off. While some may say Mikey is weak for not calling this person out by name, I think it demonstrates his understanding of the entertainment industry. As he puts it, "I could name names, but I ain't really tryin' to bring the lames fame". He expresses his anger without bringing any attention to the person he's talking about. All publicity is good publicity, and whoever this 'Craig's List' wack rapper is, he gets absolutely no publicity and no promotion. Mikey doesn't create a beef, he doesn't bring this lame any name recognition, he simply expresses his feelings and leaves it at that. He handles it like a mature and intelligent adult. In two minutes, Mikey AK proves he is the bigger man.
I be kickin' out that knowledge if you take the time to listen
If you've been listening to Mikey AK for a while now, While You Wait 2 is a perfect mixtape to hold you over until he releases his next project. If this is the first you're hearing of Mikey, the mixtape does an amazing job demonstrating the emcee's versatility as a lyricist, while also providing insight into who Mikey AK is, artistically and personally. Hungry for success, Mikey AK's combination of intellect, maturity, desire and creativity – which is on full display throughout While You Wait 2 – is sure to make his dreams become a reality. While You Wait 2 paints a picture of an emcee ready to make a difference in rap and in life.